Due dates:
Expenditure reports are due monthly. Please see the Expenditure Report Guidance Document for complete guidance on what to submit, and here is an example general ledger for you to use. We are beginning to transition some communities from submission via email to submission via Webgrants portal. If you are interested in moving over to Webgrants sooner, please contact your TA.
Work plans are due quarterly. Please keep every C4K+ project your community is participating in all on one work plan, one budget, and one budget justification. For example, if your community has all 4 contracts, your work plan will contain ECCC items, SSBPSI items, ELS items, and QCB items—as will your budget and budget justification.
Annual reports are due by October 31, 2021. More information will be distributed soon about what to include in your annual report.
Eligibility Information and FAQ:
Q. What happens to the projects when the PDG is over?  
A. The PDG opportunities are short-term, deep-dive projects for your community to make a major impact in expanding the early childhood landscape in Nebraska. All contracts are contingent upon receipt of federal funds. Year one and year two funding are guaranteed, and year three is contingent on congressional approval. Therefore, it will be important to leverage funds and develop a plan in your community to sustain developed programs and positions.
Financial and Contract Information and Questions
Note:  Workers' Compensation insurance must be provided for any employee or independent contractor hired through our PDG/C4K+ Early Childhood Community Coordinator contracts. This can be budgeted as a direct expense for the ECCC and can be carried by either the fiscal sponsor OR the contractor, depending on which is most appropriate for each community. Please submit the Workers' Compensation certificate to Noelle so that we have it in your file for federal audit.  nwegner@nebraskachildren.org.
Q. If we do not currently have Workers Compensation Insurance, does providing Professional Liability Insurance meet the contract expectations?
A. Professional Liability is not the same as Workers' Compensation Insurance. We do not require Professional Liability Insurance as part of this contract.
Q. If Independent Contractors are not covered by Workers' Compensation, do the fiscal sponsors report "contracted labor" to their Workers' Comp provider? 
A. Yes, unless the independent contractor can provide a certificate of insurance that shows they have their own Workers' Compensation coverage.
Q. What will the grant periods be?  
A. The initial contract for ECCC funds is October 1, 2020 – September 30, 2021. We will be moving to the federal PDG grant cycle moving forward. Participating communities will get a 7-month prorated contract for October 1, 2021 through April 29, 2022. On April 30, 2022, a full year contract will be distributed. The new contracts will encompass all of the PDG opportunities your community is participating in rather than getting a separate contract for each.
Q. Can public funds be braided with these funds? 
A. Yes! We highly encourage braided funding with all these opportunities. It will be important to begin conversations from the start about how these programs can be sustained after the PDG funding ends. Nebraska Children is requiring 10% leveraged funds for the Early Childhood Community Coordinator opportunity. 
Q. What leveraged funds will be required for each community?
A. 10% leveraged funding is required. Leveraged funds can include in-kind supports such as office supplies, use of office space, or fiscal agent time. Monetary/cash supports can also be used to support the position and meet the 10% requirement.  
Q. What is the expected turn-around time for expense reimbursement? 
A. Once a month reporting will be required and when all required documentation is submitted with an invoice, the expected turnaround time will be approximately 30 days.
General Questions
Q. How do all of the C4K+ initiatives fit together?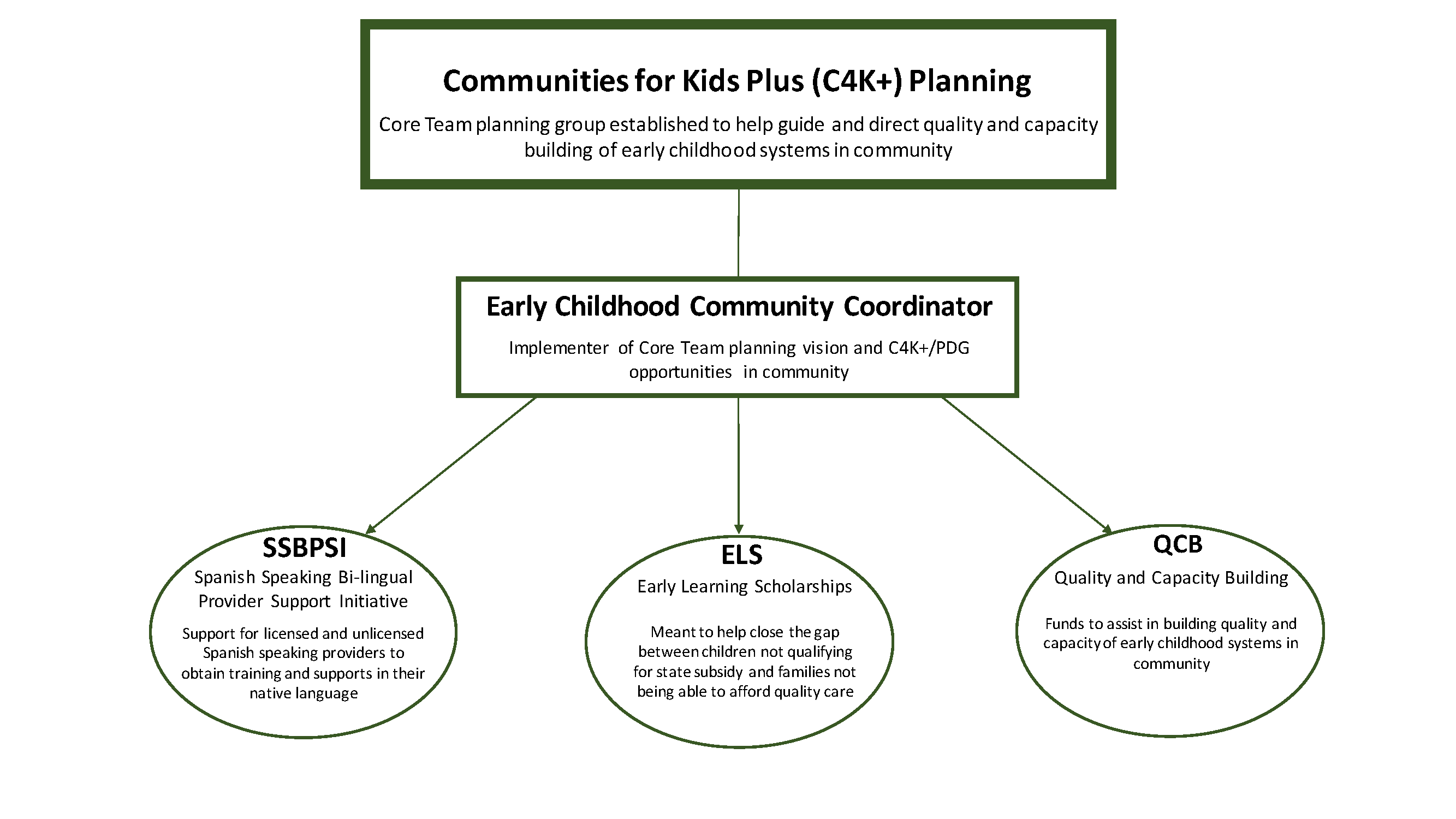 Q. How much of the ECCC funds need to go toward salary/benefits? 
A. A minimum of 75% must go toward salary and benefits/taxes for the coordinator(s).
Q. If our community participates in the Early Learning Scholarships, Quality and Capacity Building, or Spanish Speaking/Bilingual Initiative opportunities, could the money reimbursed from those opportunities also contribute to the salary of the ECCC?  
A. Funds for the Early Learning Scholarships and the Quality and Capacity Building opportunity should not include salary for the ECCC as the intent of those opportunities is to make a direct impact for child care providers and families. The Spanish Speaking/Bilingual Initiative may include salary if it is justifiable. 
Q. If we define our communities one way for the opportunities this year, can we shift who is involved in years 2 or 3?
A. The dollar amount for the Early Childhood Community Coordinator will be fixed based on the tier of funding that is part of the initial proposal. If the community determines that its initial partnership could be enhanced or changed to better meet the early childhood needs for additional communities, change could be made to the overall structure, however, funding amount will not be changed. If a community requests to reduce the area, an assessment of population with be made and amount may be adjusted to a lower tier of funding. 
Q. For the Spanish-Speaking/Bilingual Provider Support Initiative, would these dollars be able to fund a language other than Spanish? 
A. This opportunity only applies to the Spanish-speaking population. It is possible that we may look at other languages in the future through different funding sources.
Early Learning Scholarships FAQ
We encourage participating communities to carefully read the project overview document we attached with the initial award notification as well as the Frequently Asked Questions below. We are happy to answer any remaining questions that come up. Please note that due to the unique elements of each community receiving Early Learning Scholarships contracts, there are some pieces that are left intentionally open-ended; this gives communities freedom to develop a process that works best for the families and providers they intend to serve.
Q. What happens if the participating provider does not achieve a Step 2 within 12 months? 
A. Ultimately, each community can determine the course of action for managing provider eligibility. We recognize that there are many circumstances that could prevent moving along in Step Up to Quality as planned (such as a pandemic!). With that, we encourage you to work directly with providers on a plan and next steps to ensure the requirements and expectations are clear to all parties involved. It will be important that you provide a written rationale for this exception as part of your reporting.
Q. What information needs to be reported/when?
A. Each month, communities will submit their C4K+ expenditure reports, invoices, general ledgers, provider invoices, and proof of payment to providers. Each time new providers are brought on and are paid, please also include the Early Learning Scholarship Application/Letter of Commitment for Child Care Providers (pages 15-17 of the project overview document) for that new provider.
As with every other C4K+ project, the evaluation team will be reaching out to you to collect further data regarding the children and families being served.
Q. If providers have a licensing issue and are placed on probation, does that impact their ability to participate in the program?
A. If the program is currently serving children with an ELS agreement with your community, our advice would be to continue with that current agreement but to not add additional children. If this is a new provider you'd like to work with, we advise waiting until the probation has expired. However, we recognize there are circumstances where this could be the only provider eligible to receive funding, so we would support you in creating an individualized plan to ensure quality with this provider.
Q. What if the program does not serve infants/toddlers? 
A. They are ineligible to received ELS funds, unless there are extenuating circumstances with this provider or in your community. An example might be that there are two licensed providers in your community, one does not serve infants but is working towards increasing capacity to offer this care, in this case we'd suggest providing assistance through this provider.
Q. Where can I find the federal poverty guidelines? 
A. The 2020 Federal Poverty Level (FPL) is a measure of income issued by the Department of Health and Human Services. Federal poverty levels are used to determine eligibility for certain programs and benefits.
The current FPL for a family of 4 is $26,200/year. This is also considered 100% of the federal poverty level. Tuition assistance from Early Learning Scholarships is available to eligible providers to help families who earn up to 200% of the FPL (for a family of 4 that is $52,400/year).
Q. How can I use the funding? 
A. The funding is for the providers to supplement the revenue they would have received directly from the family being served. So, this money will be used to cover the expenses the program incurs for providing care just like any other tuition received.
Q. When must the funding be used by?
A. This first contract (shortened) year will run through September 30, 2021. The second contract will run October 1 – April 29 so that we can get back on the federal grant cycle for PDG.  A full year contract from April 30, 2022 to April 29, 2023 is expected after that, pending congressional approval.
Q. If I am a provider with multiple locations, can I complete one application for all of them or does each facility require its own application?
A. Providers must complete an Early Learning Scholarship application for each location/facility that is providing child care and meets the Early Learning Scholarship eligibility requirements. These applications will be submitted to the designated community coordinator.
Q. What if I don't use all of the money?
A. Funds are available on a reimbursement basis. If you don't utilize the maximum available to you, we will distribute as we're able in the next year, pending federal approval.
Q. Is there a maximum amount of money a family can receive?
A. We calculate an average of $5,000 per year per child; this can vary significantly per community and per family and provider circumstance. We suggest each community develop a process to determine how much assistance a family should receive based on their income and the provider's tuition.
Q. What if I have a child that wants to transfer to a different location--does the funding follow them? 
A. If the next provider is eligible to participate, yes, but the family would need to reapply.
Q. Is there a formula to determine the amount of the scholarship award? 
A. The development of this formula falls to each community; however, we are happy to assist in creating one if needed. Please contact your C4K technical assistant if you need help with this process.
Q. Do families have to pay a portion of their child care? 
A. This can be determined by the provider or the community. We would suggest creating your own calculation to determine what a family at 200% of the Federal Poverty Level vs. 150% may pay, knowing that there may be other factors to take into consideration (such as how many children are in care, the cost variance in programs, schedule of care needed, etc.).
Q. What if a family is just above the eligibility income, can I make an exception? 
A. These funds are specifically intended to support families with low to moderate incomes and should be used for that purpose.   
Q. Does the scholarship have to be for a full year? 
A. It is our guidance that an award is for the contract period we have with your community, however the provider and communities may choose to award for a shorter period of time under certain circumstances (e.g. a parent was furloughed at work, so needs temporary assistance).
Q. What if a family is over the income threshold, but has an emergency need? The paychecks don't reflect their current situation. 
A. If you are able to calculate that there is a true need, this would be an appropriate use of funds. An example may be that one parent lost a job or needs to stay home to care for an older family member and is unable to be paid, which brings their income to under 200% FPL. When documentation is available, we recommend gathering it to store for future reference.
Q. What if a child is eligible to attend kindergarten but the family wants to keep them in our program and wait a year to start school, are they still eligible?
A. As long as the child is age 6 or under, they would still be eligible.
Q. What if both parents were working and one loses their job? Are they still eligible? 
A. If they meet the income guidelines of 200% or below the Federal Poverty Guideline while the second parent is looking for work, they can remain eligible. They should also apply for DHHS Subsidy if there has been a significant change in income. If the now unemployed parent stops looking for work, they would no longer be eligible for the program unless there has been a change in ability.
Q. Do I need to give notice to a family to end their tuition assistance? If so, how much notice is required?
A. We recommend communities develop an internal process for ending tuition assistance. Nebraska Children does not require notice for individual changes as this would already be recorded during monthly expenditures.
Q. When can we begin to serve families with Early Learning Scholarships?
A. Because funding from Nebraska Children is based on federal approval, each community's agreements with providers (and provider agreements with families) should start inside the contract period. Once funding has been extended, you can adjust those agreements accordingly.
Q. Is there an example letter for families outlining their award or denial?
A. A template sample letter for denial of tuition assistance is available through your primary assigned TA.
Q. Is tuition assistance based on attendance or enrollment?
A. Enrollment, however, if attendance is a significant issue we recommend terminating with this family and offer the award to someone else.
Q. If we have a program already, can we use our current guidelines?
A. As long as you follow our guidelines or a stricter policy, absolutely! You will need to track specifically where the funds for this program are being utilized. If possible, you can have ELS funding apply to a specific provider or set of providers, and then use your other program to fund other providers.
Q. How far back is a subsidy denial letter acceptable? How can we obtain that if the family didn't keep it? 
A. A denial letter from DHHS should be dated within the previous 12-month period. If the family does not have a copy of the letter, they can obtain it from ACCESSNebraska or if they have a case worker, the case worker can assist.
Q. When and how do we receive funding?
A. The first two months of the annual award amount will be provided as an advance after the contract is executed to jumpstart this project in each community. As with the other C4K+ funding pieces, communities will report monthly on expenditures. Nebraska Children will begin reimbursing after the advanced funds have been depleted.
Q. What should our community be doing to plan for sustainable funding for the Early Learning Scholarships?
A. It is important to start now to develop a plan to assure that this project can continue once the PDG funds have expired. We encourage you to start conversations with local businesses, city officials, and local philanthropic organizations to introduce this important work. The Nebraska Children team will provide ideas and resources throughout the next couple of years on building sustainability.
Q. How can I assure families that their financial information will be kept confidential?
A. Each community will need to develop their own system of keeping financial records secure and communicating it to providers and families.
Q. What do providers need to keep in their records?
A. A copy of the family application and Early Learning Scholarship Application / Letter of Commitment for Child Care Providers will need to be kept on file for up to three years.
Q. Will we be receiving the project forms in the overview PDF as editable and/or fillable forms?
A. We are happy to send a Word document if requested, or you can copy and paste the information into a fresh Word document.